Discover more from The WineWiz
The web home of Lara Wiz's wine newsletter. Published every Friday morning!
It's the Holiday and Birthday and Anniversary Season!
I didn't realize till I was an adult that no one else's families routinely stuck a candle in a pie and sang Happy Birthday after dinner
Hello! Hope you USAians had a nice Thanksgiving holiday. Dinner here turned out great. I need to refine my smoking technique, but the legs turned out excellent.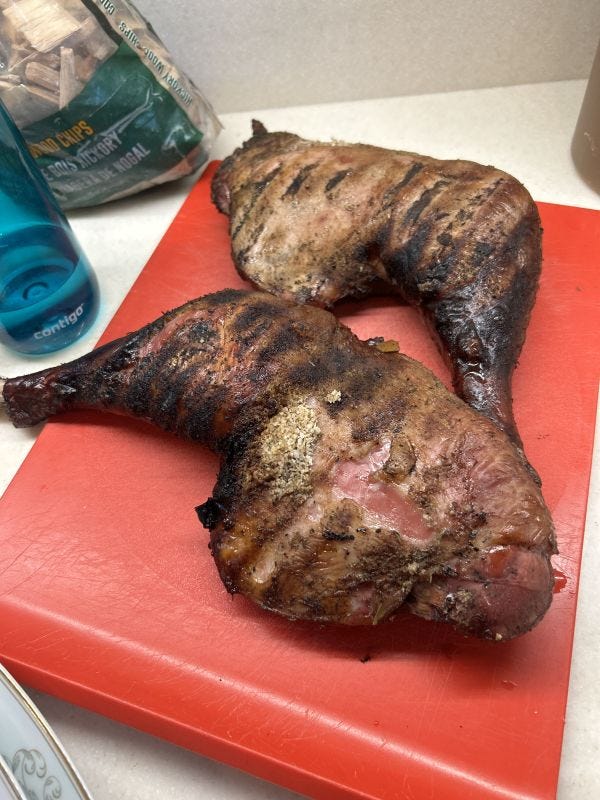 Also my wine choices worked well! The 2016 Beneduce blaufrankisch is drinking beautifully. I remembered it as being pretty bold on the palate, but it's mellowed out some in the bottle. Still pretty fresh fruit on the palate. Very nice!
Anyway, I now want to smoke all the things, so I'll let you know whatever I do next.
Thanksgiving also means other celebrations for my family. Ma and Pa Wiz celebrated their 52nd! wedding anniversary on the 21st, and Ma Wiz's birthday was the 23rd. Bro Wiz and I took them to dinner at Acacia, an excellent BYOB in nearby Lawrenceville. So yay, not only do I save us a bit of cash, I get to pick out my own wines!
To start, and because we were celebrating, I figured we needed some sparkly. I went with Farmhouse Block Extra Brut Rosé, which I bought last year from Full Pull Wines for $25.
How gorgeous is that pale salmon color! And even though it's labeled extra brut, it wasn't super dry to my palate. Not as bubbly as champagne or prosecco, but lovely light fruit, and was a great way to kick off the meal.
Ma Wiz has been wanting to check out one of my treasured William Heritage BDX blends for ages now (here's a link to the most recent vintage, 2019). I bust out one of my 2017's to go with our entrées.
BDX is the wine I first tasted in 2014 and made me want to be a wine club member. It's a nickname for a blend of grapes that originate in France's Bordeaux region. William Heritage adapt the blend each year, and the 2017 was predominantly cab sauv, followed by cab franc, and merlot.
The 2017 is drinking beautifully. William Heritage know they have high quality fruit, and they have worked hard over the years to refine the texture. It's got great structure, the tannins are exceptionally smooth. Just a gorgeous drinking experience. And it went fantastically with my duck breast.
William Heritage's BDX retails for $50 (and that price hasn't changed since 2014, so that's pretty cool). I can gladly recommend both wines for your upcoming holiday festivities, and also Acacia if you're in the neighborhood. (If you see Hermés there, tell him I said hey!) And happy anniversary, Wizzes!
Speaking of holidays, got questions about what wines to serve? What wines to gift? Please hit me up in the comments!
Thanks for reading The WineWiz! Subscribe for free to receive new posts and support my work.